So have you been thinking to yourself – How much are UFC tickets? Then after this, you your likely wondering  – where can i get UFC tickets from?
Well don't worry, because I'm going to let you know about both, so you can get your tickets for the upcoming UFC 209: Woodley vs Thompson 2 card, on March 4th 2017 at the T-Mobile Arena, in Paradise, Las Vegas Nevada.
Whether you have never been to an MMA event before, or if your a seasoned vet like me, either way your going to be in for a GREAT NIGHT of action in Nevada on March 4th.
Nothing gets close to the excitement of a live event – I don't care if its sports, music, comedy shows etc. Being in the moment, creating the memories, the music, the volume, the excitement, the closeness, the real connections to the action – you can only get this experience by being in person at a LIVE EVENT.
Here's a video to get a little peep into what's going down in Nevada on March 4th at UFC 209:
---
Breakdown of the fights
So as you no doubt guessed from the name of the event, the headlining bout is going to be a rematch between Tyron "The Chosen One" Woodley vs. Stephen "Wonderboy" Thompson. These two warriors first collided in the historic first ever UFC event at Madison Square Garden at UFC 205 back in November 12th 2016. It was a titanic bout, one of the best fights of 2016 easily which ended in a controversial draw. They are both the cream of the crop at 170 pounds, without question two of the best martial artists in the world, and it will no doubt be absolute fireworks when these two collide again on March 4th.
In the featured co main event UFC Lightweight Russian Phenom, the undefeated 24-0 Khabib "The Eagle" Nurmagomedov and "El Cucuy" Tony Ferguson go to battle in one of the most anticipated bouts of 2017 so far – we all know that whoever wins this is likely going to be the legendary Conor McGregors next opponent, so make sure you don't miss this bout.
 Mark Hunt vs Alistair Overeem is another great fight on this card, especially considering the added bit of spice that Mark Hunt is actually currently suing the UFC  because of Brock Lesnar beating him on PEDs (Performance Enhancing Drugs)in what is likely to be a drawn out legal battle. Hunt better stay focused on the task at hand though, because Alistair Overeem has always been a beast, one with his own chequered history with failing drugs tests, but still he is one of the best ever and most experienced Heavyweights in the UFC today.
Landon "Groovy" Vannata is back in the octagon, after his hugely impressive spinning wheelkick KO of John Makdessi in his last bout. He will be put to the test by the the 27 year old Swedish prospect David Teymur, who has solid stand up, so this should be a good scrap.
Mirsad Bektic vs. Darren Elkins is one I'm really excited for – it has an old guard vs new breed feel about the contest, which often can be great fights for entertainment. Bektic is one of the top rising prospects at 145 pounds, that has been blowing through his opposition giving him an undefeated 11-0 record thus far in his MMA career. He will have his toughest test yet though when he faces off against the surly, hard nosed veteran Darren "The Damage" Elkins, so expect an engaging and tough contest here.
 Also there is  Todd Duffee vs. Mark Godbeer, Paul Craig vs. Tyson Pedro, Igor Pokrajac vs. Ed Hermann and  apparently more fights to be announced, so this fight card is really looking solid from top to bottom.
---
What's the best tickets to get?
Some people ask me where the best positioned seats are to get, when booking UFC event tickets, and really all I can say about this, is that you should just keep it practical – meaning don't spend more then you can afford which is pretty obvious I guess.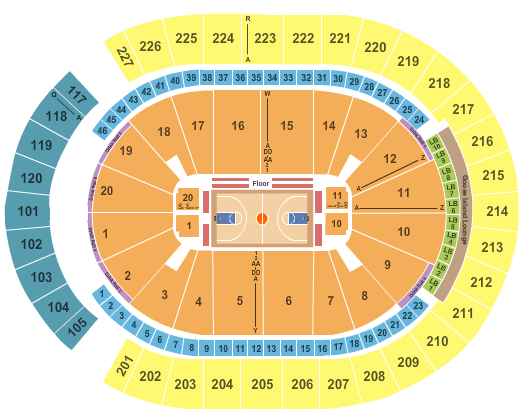 This picture shows you the layout of the seats available in the T-Mobile Arena for UFC 209 on March 4th.
If this will be your first UFC event you've attended, well then you will have an absolute blast in general just being in Las Vegas for the first time anyway – but pay attention to the expenses, its easy to do a bit too much spending for a first time in Vegas 🙂
But when it comes to tickets to UFC 209, if its your first event maybe you will just want to get any ticket that you can get your hands on, as tickets are selling fast.
But obviously if you've been to many UFC events like me in your life, or you just want to get the best view possible, then you might want to try and get closer to the cage –
but bear in mind that as seats get closer to the octagon, they always get a lot more expensive, ticket prices for this UFC 209 event will range from around $80-4000 per seat depending on where you want to be positioned, and you also might bump into a celebrity as you get closer to the cage, where the most exclusive seats are.
---
An Unmissable Night of Action!
Its pretty fair to say that UFC 209 is going to be a truly unmissable night of action, because seeing Woodley vs Thompson again is worth the cost of attending by itself, but with all the other amazing fights on this card, words can't describe what a great experience UFC 209 is going to be on March 4th, at the T-Mobile arena in Paradise, Las Vegas, Nevada.
So now that I've answered how much are UFC tickets? and where can I get UFC tickets from? Well at this point you have heard enough from me, so now you should just start looking at the variety of seats, ticket prices and make a booking, and you can do that right HERE.
Also stay tuned for more information on upcoming events -next tickets for UFC London on March 18th will soon be available right here at the MMAGateway.